online cell phone locator for car with gps maps tracking

The RF-V8 gps tracker is designed to guard against theft & positioning for property & life security. GPS alarm protect you from emergency immediately. Timely action for theft prevention when in progress. Set multiple functions of security, tracking, monitoring surveillance, emergency alarms and management in its entirety.
1. Using military technology
Passed CE, FCC, ROSH certification and patent, Quality assured, One year warranty.
2. Quad band GSM module
All the global gsm network can be used.
Note: Please be sure the tracker is turn off before insert or take out the Micro- SIM.
Please be sure the GPRS and Caller ID has been activated.
3. Easy to use
Without install, can be used for kids, elder, patient, pets, vehicle, car ,bike etc
4. Super mini size
Very light only 26g, easy to hide and carry
5. Support GPS and LBS (Location based service) double tracking solutions, Positioning fast & accurate
6. Ge-fence and trace replay function
7. Remote listening function
With high acoustic fidelity, all the situations of your car and property controlled by you at anytime.
8. Low Battery Charge Alert
When the battery life is less than 10%, the tracker will send SMS message to the master-control phone number with 10% battery life, the standby time is 2 hours, you could make a call within 2 minutes.
9. SIM-changing Alert
When the SIM card is changed the tracker will send SMS message to the master-control phone number.
10. There are 4 levels of sensitivity for various properties safety
Level 1 is highest levels of sensitivity , tapping the body that triggered the alarm .
Level 2 is detected within 2 seconds to 2 times the vibration alarm is triggered
Level 3 is detected within 5 seconds to 5 times the vibration alarm is triggered .
Level 4 is fast-moving reach 10 meters per second that trigger an alarm
Note: You could select various level of sensitive according to various situations.
11. Low power consumption and long time standby
GSM standby (GPSclosed) 12 days , GPS standby (10 minutes once positioning) 50 hours
12. Easy to operate
All the function can be remote operated
13. Multiple tracking way
Tracking by website,APP,SMS. We had our own platformwww.gps123.organd Android and IOS app "TrackAnyhwhere " which had run without accident three years, and we also have Wechat account.
14. Active sound and vibration senor
Once it detect too much noise or vibration, it will immediately send SMS or call you so that timely stop thieves and avoid the loss

Brand:

ReachFar

Item No.:

RF-V8S

GSM network:




(Quad band)

850/900/1800/1900MHz

GPRS standard:

Class 12, TCP/IP

GPS Positioning accuracy:

10-15m

Battery

Built-in

,

520mAh

Standby time

GSM standby (GPSclosed) 12 days




GPS standby (10 minutes once positioning) 50 hours

GSM/GPS Antenna

Built-in design

Working ptemerature:

-20

~ +70

Working humidity:

5% ~ 95% RH

Positioning time cost




(open sky)

Cold start 30 Sec

Warm start 29 Sec

Hot start 5 Sec

Host size:

40*34*14mm

Packaging size:

138*118*46mm

Host weight:

24g

Package weight:

218g

Colors:

black

Package includ:

1* Host




1* DC Charger




1* Mini USB charger




1* USB cable




1* External power pack (12-24V to 5V)




1* User manual


Tracking By Website
Please Visit:gps123.orgUser Name: ID number, Password: 123456 tocheck our GPS online tracking software.
Tracking Via APP
Scan the Qr code to install the Android or IOS APP, you can find the Qr code on Packing box ,our tracking platform, user munaul. Of course, you also can install it from app store, Our APP name "Track Anywhere",User Name: ID number, Password: 123456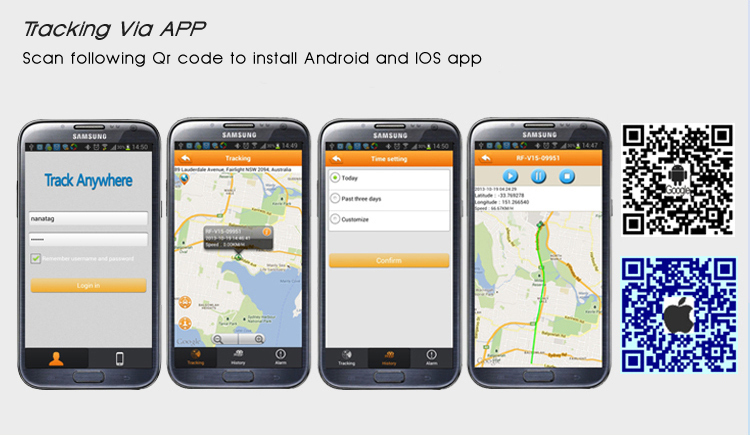 Tracking Via SMS
Send "dw#" to the device ,you will get the address and map link